The Month in Photos: April 2022
CIA Director Visits, Ivan Allen Jr. Prize, and Earth Week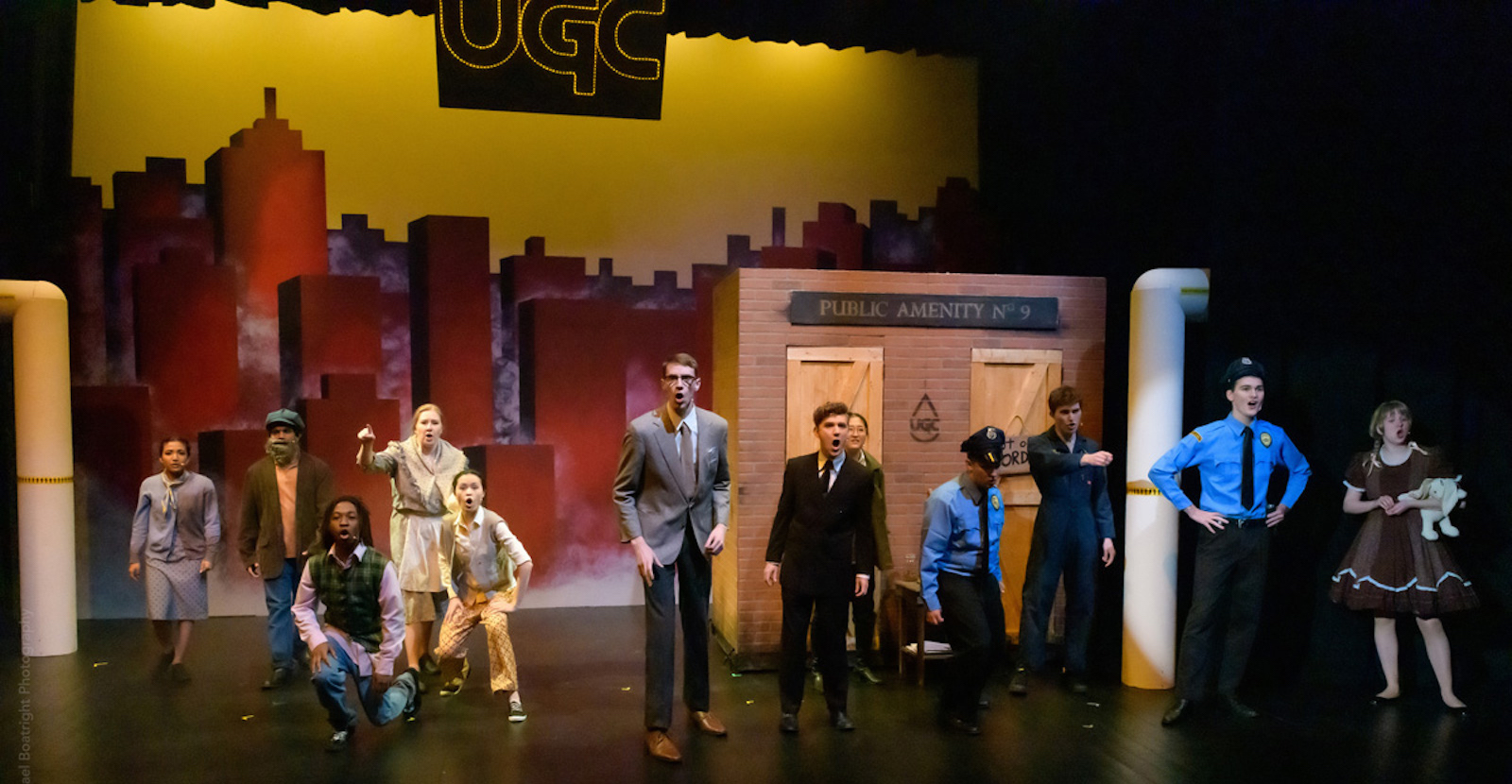 A semester's worth of work by DramaTech, Georgia Tech's student theater, culminated in the production of Urinetown: The Musical. Photo taken April 7 by Michael Boatright.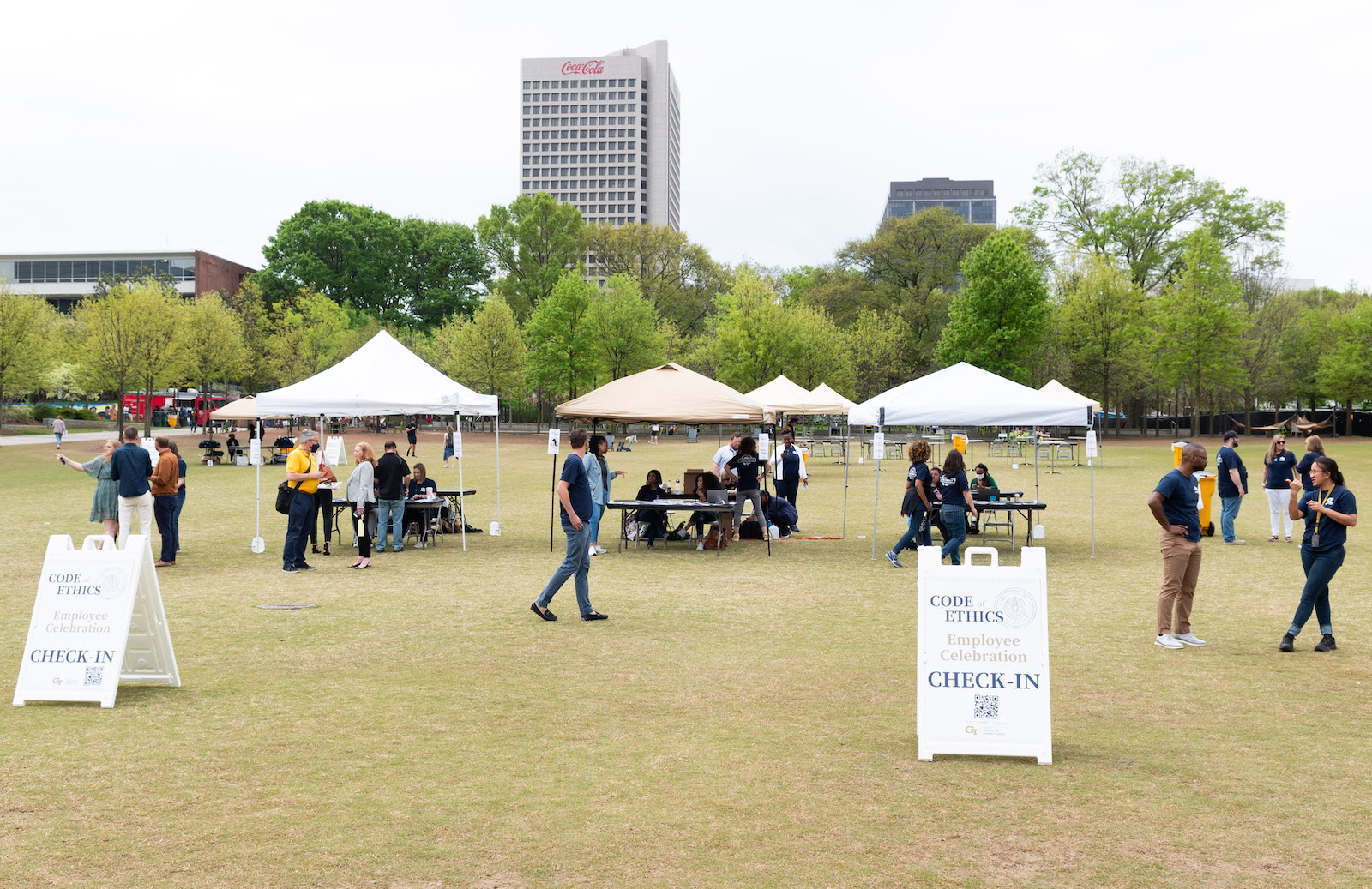 Georgia Tech's Office of Ethics and Compliance hosted the Code of Ethics Employee Celebration on Tech Green. The event was held to help introduce employees to the Institute's new Code of Ethics. Attendees received a food truck voucher, a free t-shirt, or a free King of Pops popsicle. Photo taken April 13 by Joya Chapman.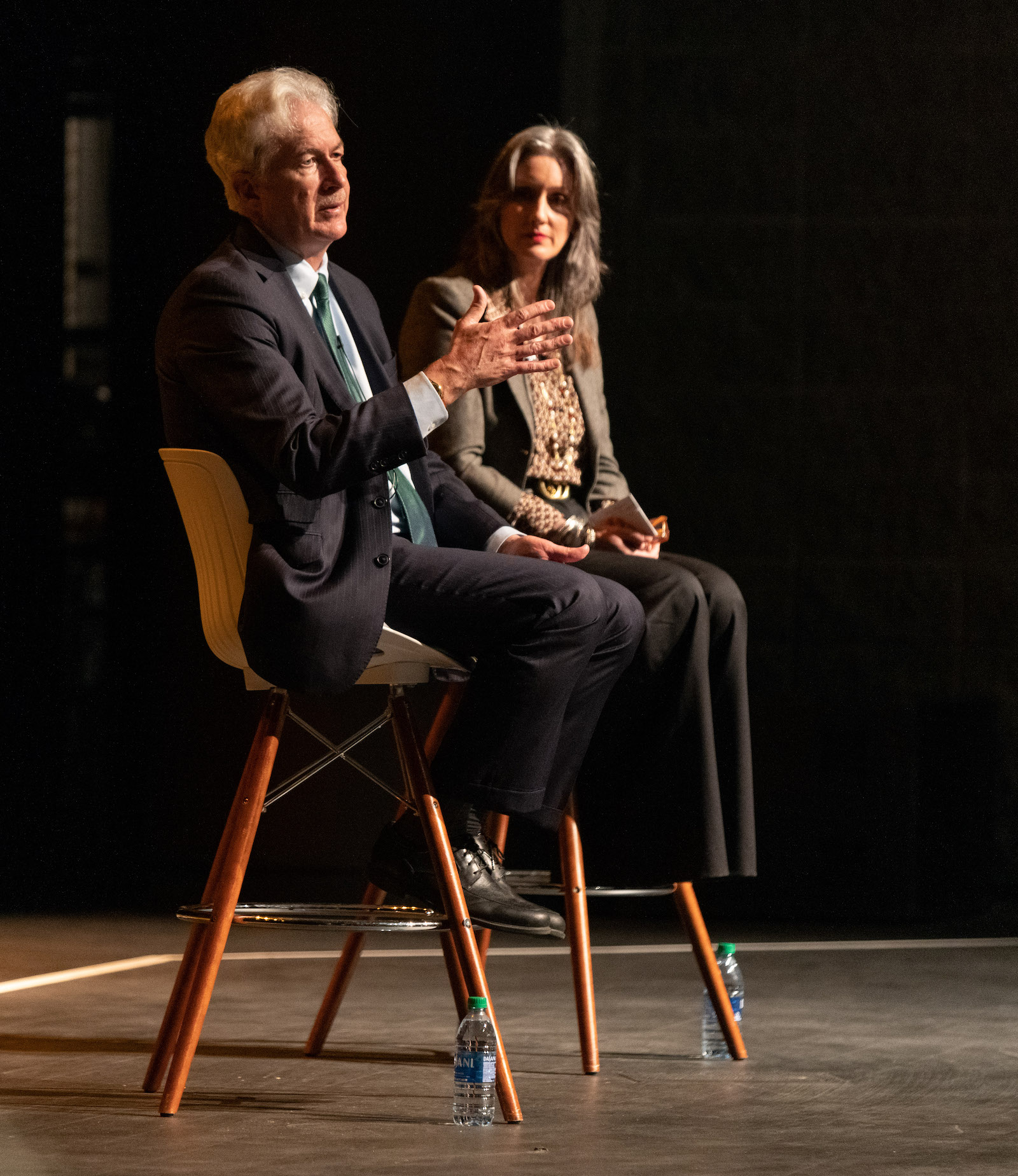 CIA Director William Burns visited Georgia Tech and gave a talk titled "The Role of Intelligence at a Transformational Moment." Pictured are Burns and Jenna Jordan, associate professor and interim associate chair of the Sam Nunn School of International Affairs, which hosted the event. Photo taken April 14 by Rob Felt.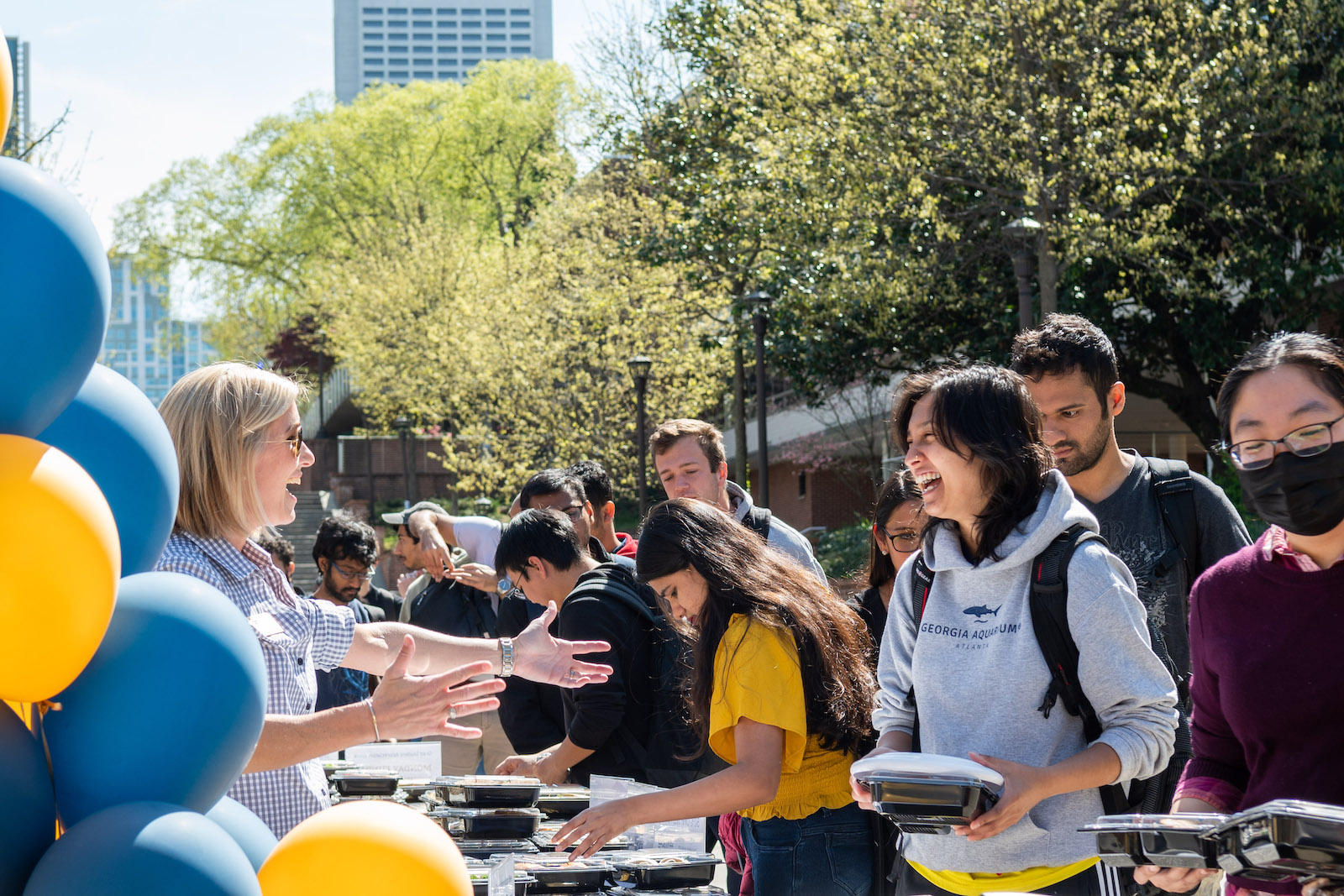 Casey Hendricks (left), program support coordinator in Graduate Education and Faculty Development, greets students during Grad Student Appreciation Week, a celebration of the contributions, impact, and value of the Institute's graduate and professional students. Events throughout the week provide opportunities to engage, network, and have fun. Photo taken April 4 by Joya Chapman.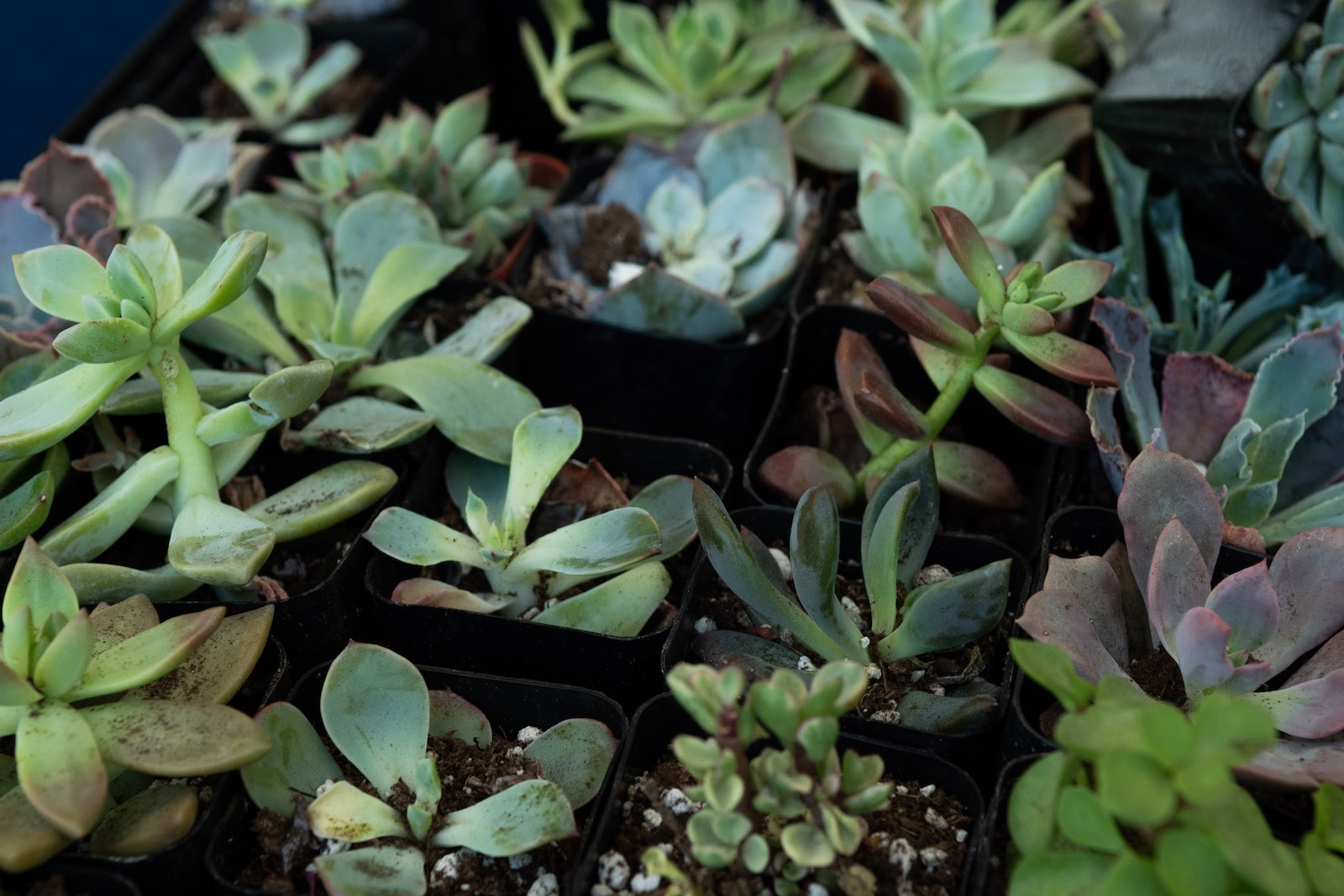 The Campus Sustainability Fair highlighted what Georgia Tech's sustainability organizations and departments are doing to advance sustainability and how to get involved. Pictured is a demonstration of planting succulents. Photo taken April 20 by Joya Chapman.
Fossil Friday: In the Spatial Ecology and Paleontology Lab in the College of Sciences, researcher Ben Shipley and Matthew Gaul sort through 3,000- to 30,000-year-old fossil specimens from rock matrix brought back from Natural Trap Cave Wyoming. Fossil Friday will resume in the fall. To learn more, sign up here. Photo taken April 8 by Christine Conwell.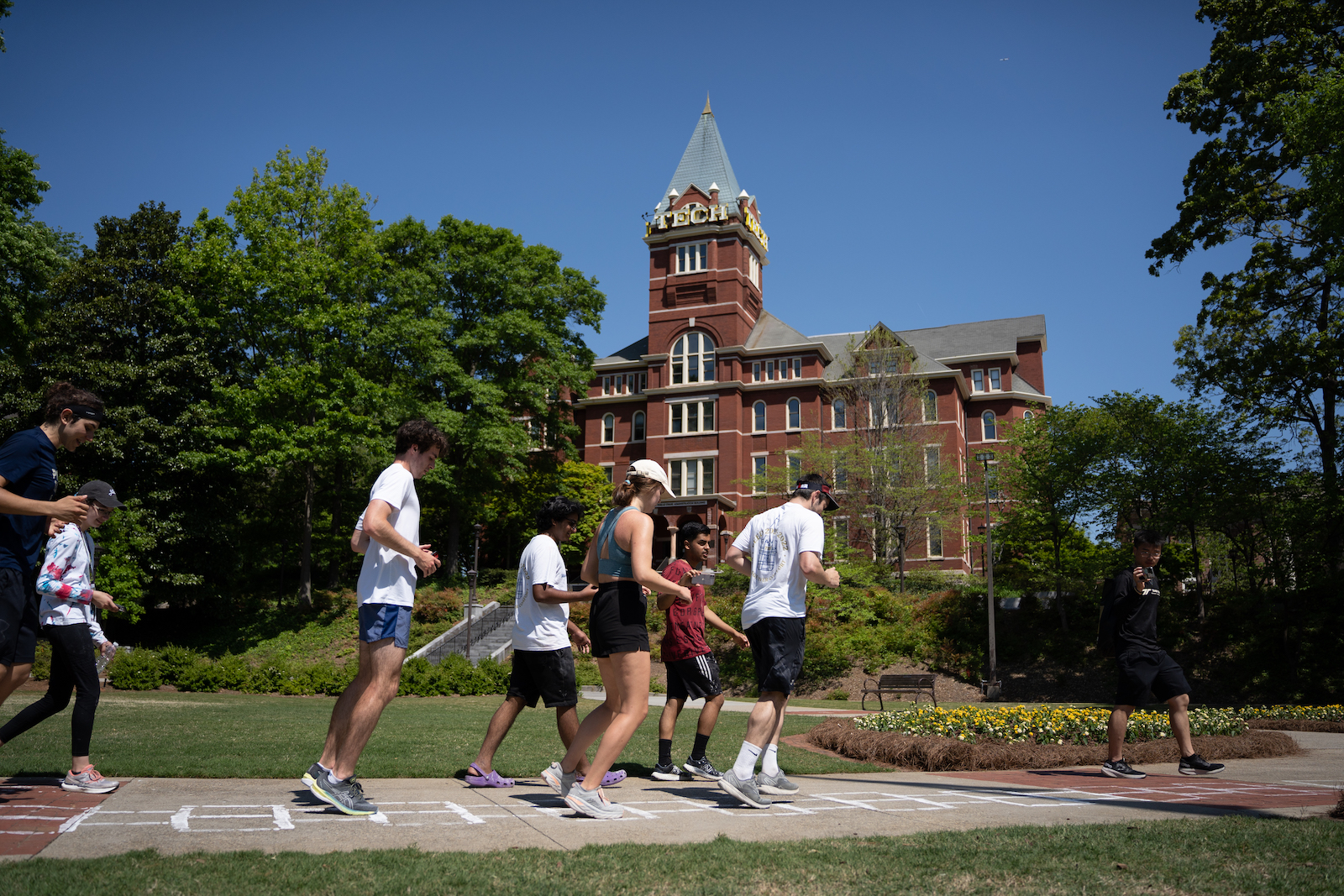 Georgia Tech students completed the world's longest hopscotch, a 4.2-mile course covering the campus. Photo taken April 25 by Tyler Schott.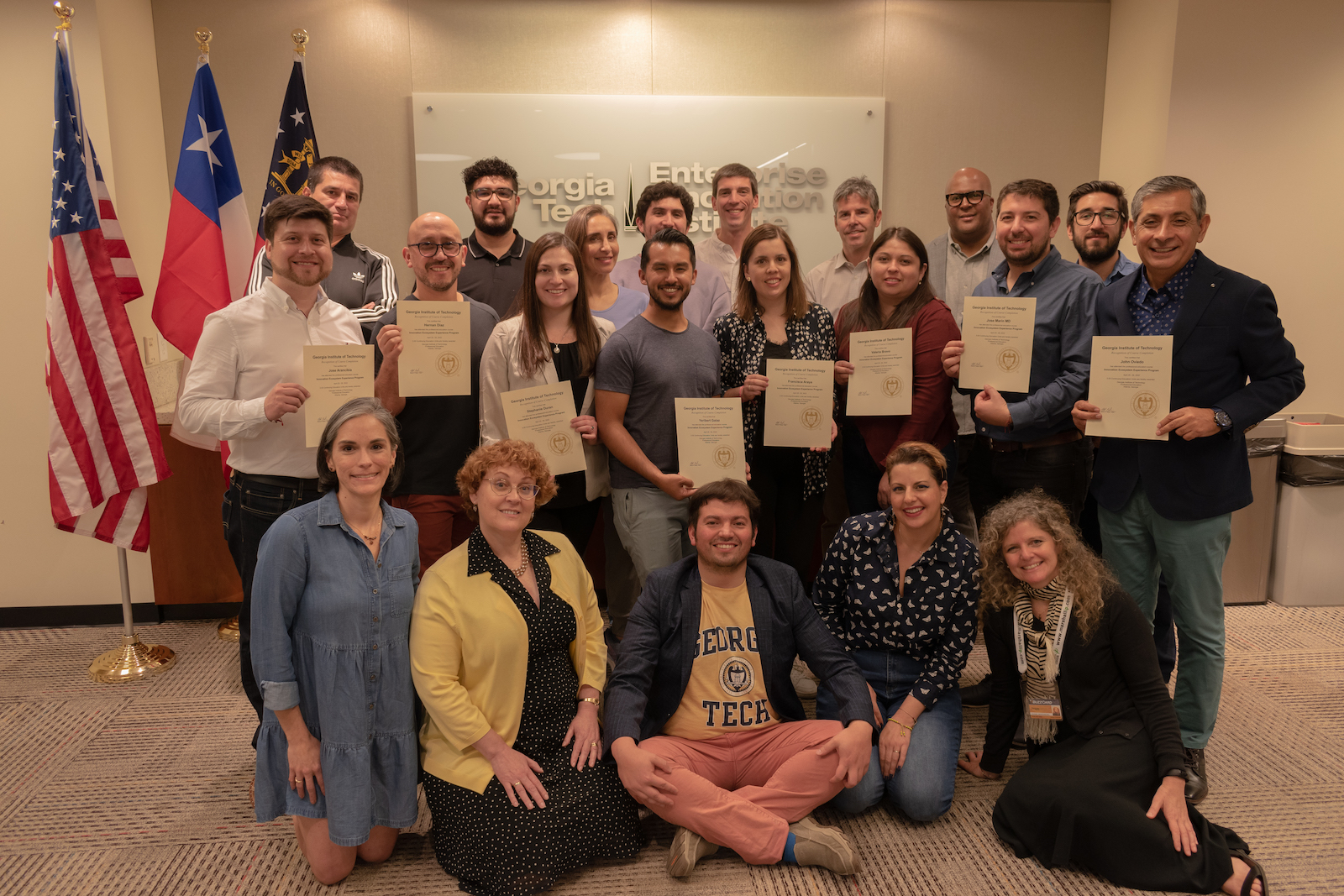 The Enterprise Innovation Institute's Innovation Ecosystems program welcomed a group of faculty members from Universidad de Concepción in Chile, and entrepreneurs and support practitioners from the Innovation and Entrepreneurship Ecosystem of that country's Bío-Bío region. During the five-day training, participants attended lectures and engaged in team project work. Georgia Tech instructors helped them navigate the Business Model Canvas, and they took guided tours of campus and Tech Square. Photo taken April 29 by Péralte Paul.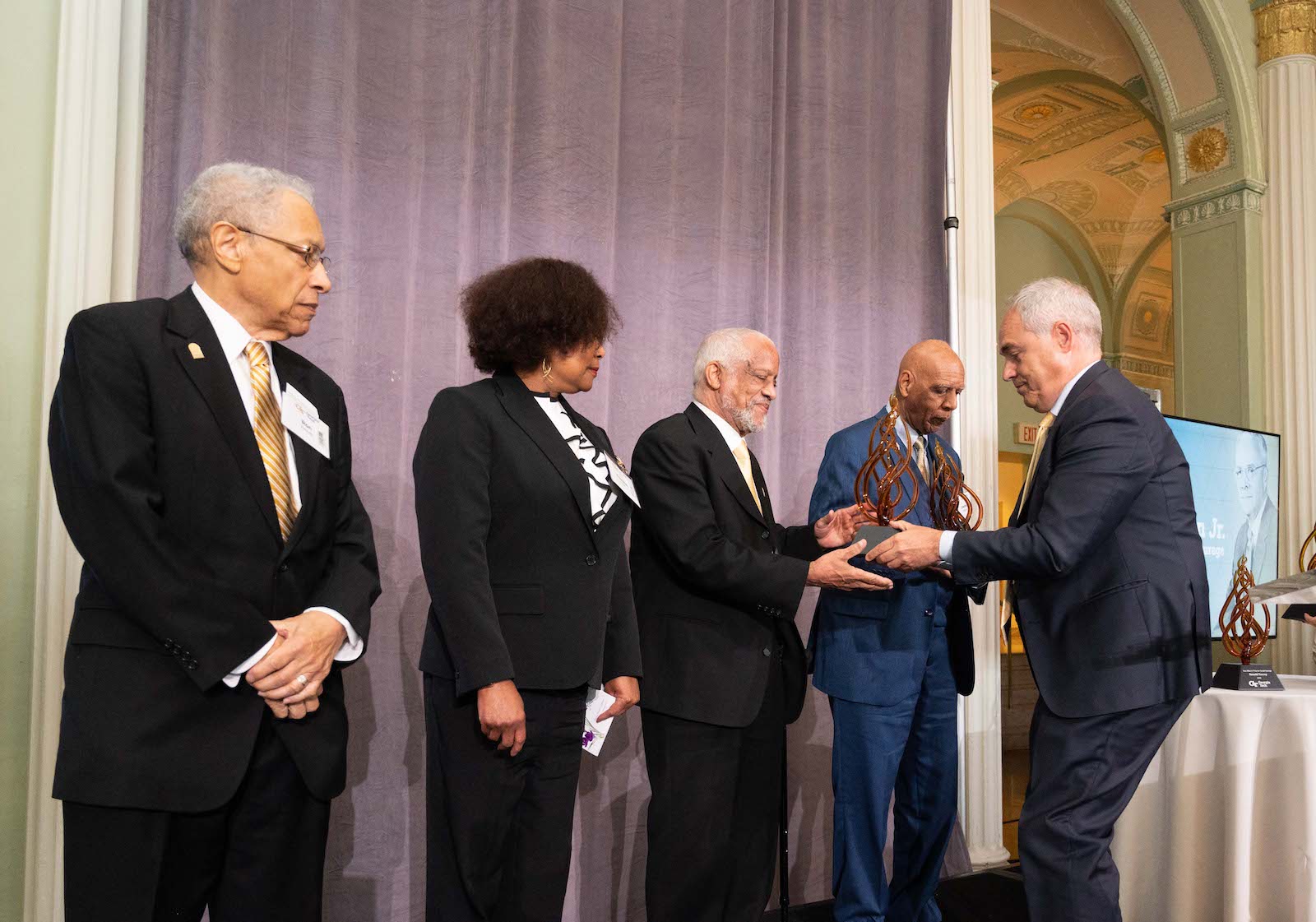 In recognition of their roles as trailblazers, Tech's first Black students — the late Ford C. Greene, Ralph A. Long Jr., and Lawrence Williams, along with the first Black graduate, Ronald Yancey — were awarded the 2022 Ivan Allen Jr. Prize for Social Courage on April 20 at the Biltmore Ballroom in Atlanta. President Cabrera presents the award to Long. Left to right: Ronald Yancey; Frankie Hall, wife of the late Ford. C. Greene; Long; and Lawrence Williams. Photo taken by Allison Carter.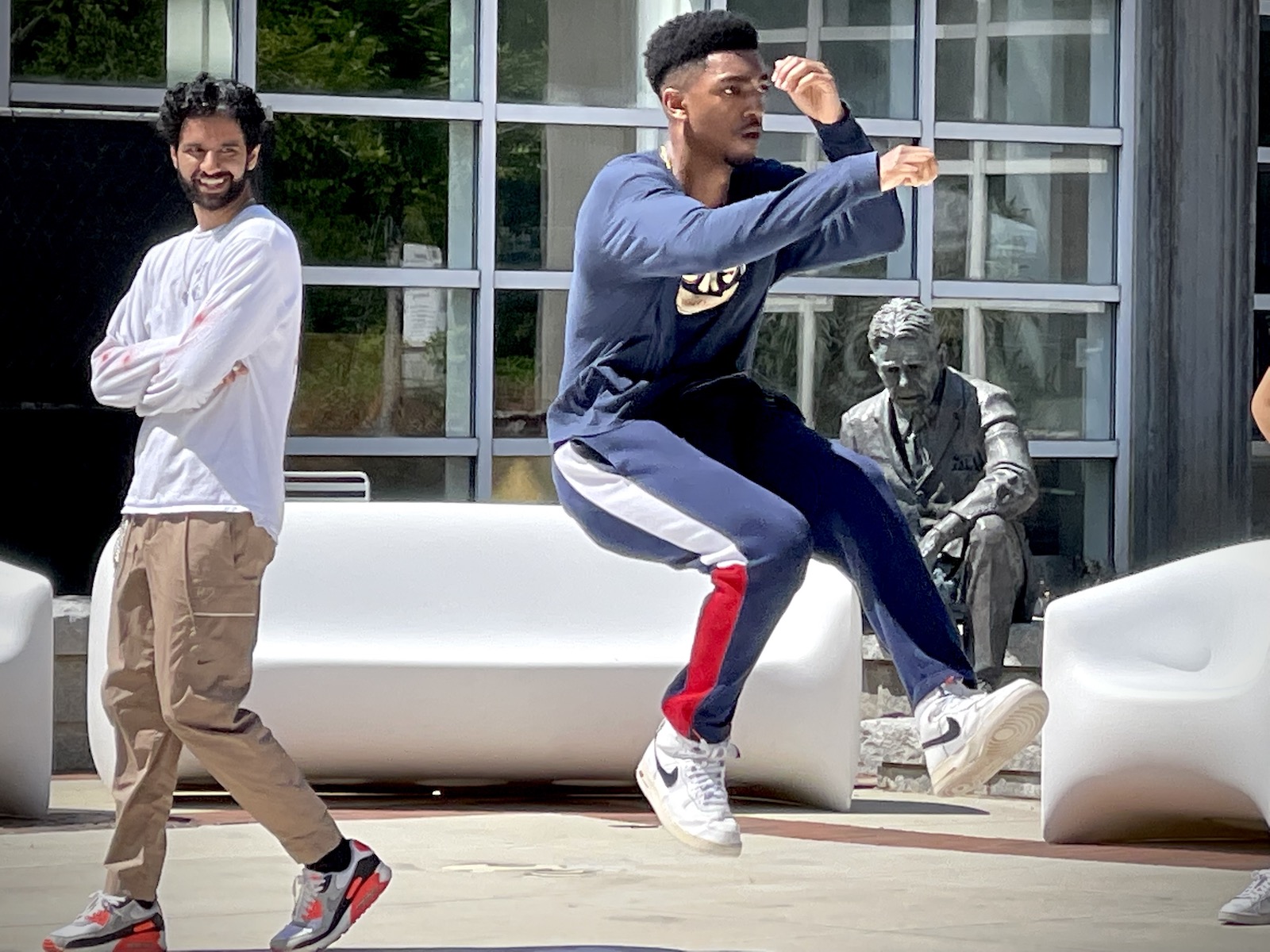 Georgia Tech Arts presented Arts Plaza Pop-Up, a month of events, installations, sights, and sounds on the Ferst Center Arts Plaza. Photo taken April 15, courtesy of the Division of Student Engagement & Well-Being.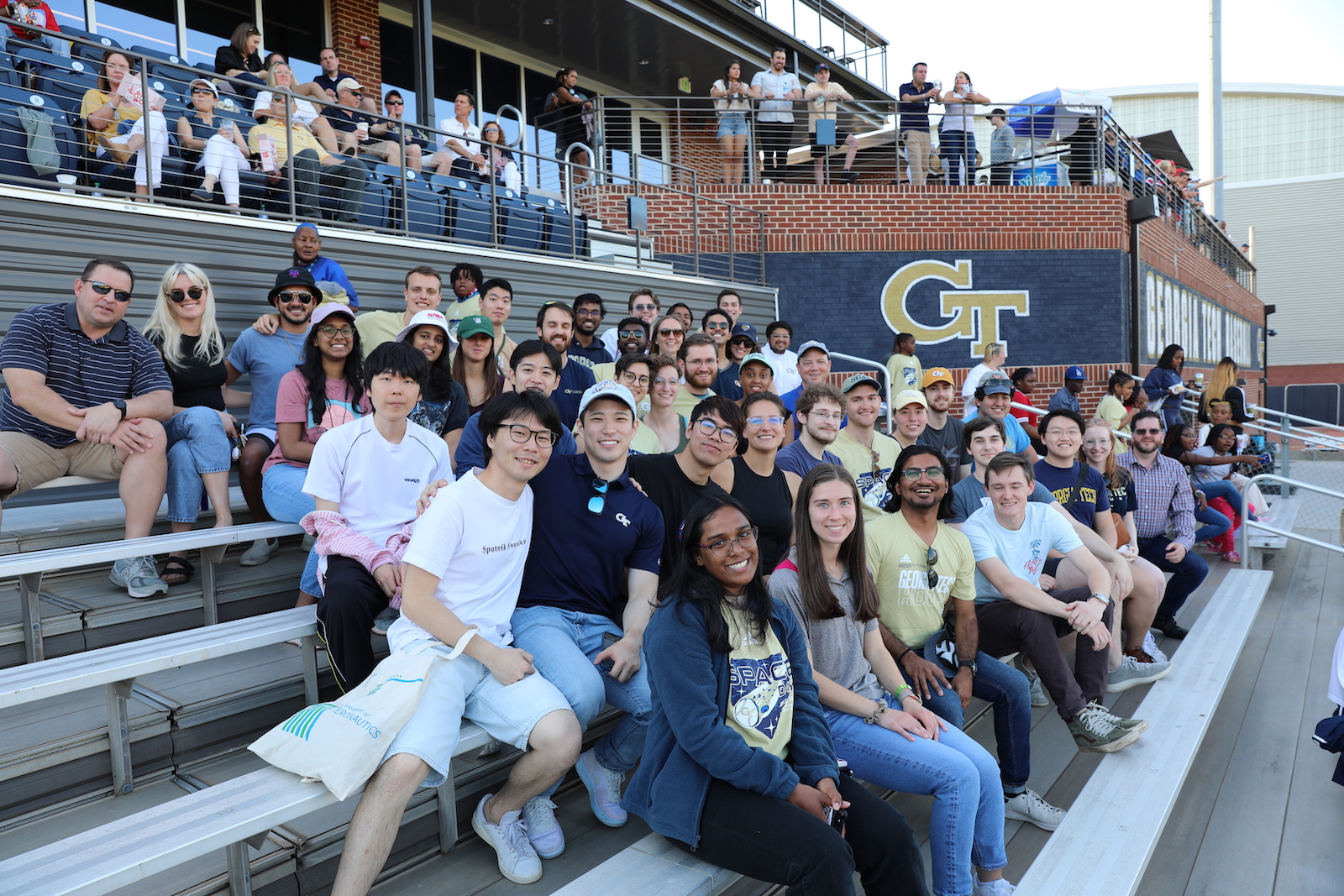 Researchers, students, and professors from the Daniel Guggenheim School of Aerospace Engineering's Space Systems Design Lab took a group trip to Mac Nease Baseball Park at Russ Chandler Stadium to attend the Space Day game held April 22. Photo taken by Kelsey Gulledge.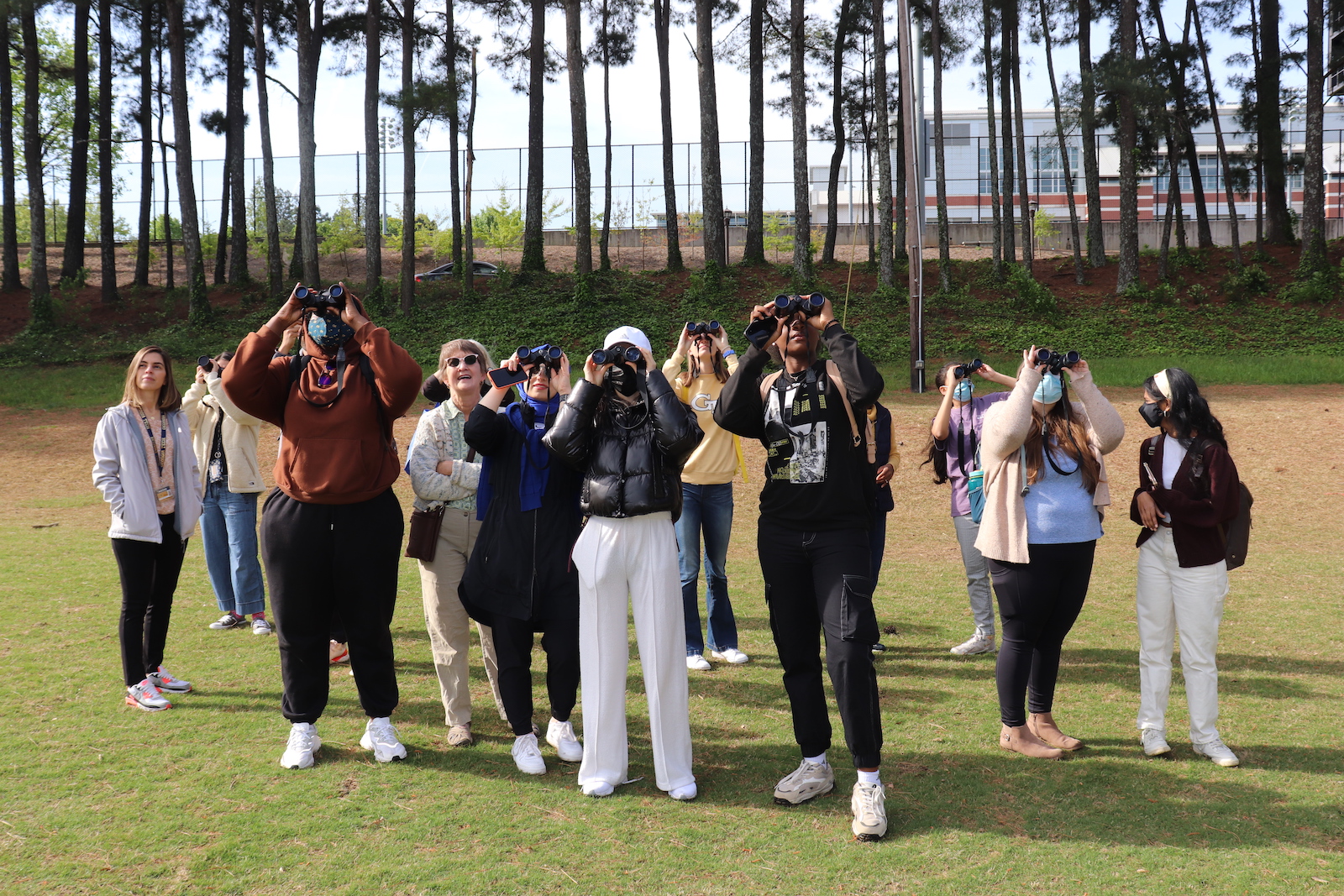 The Institute hosted its annual Earth Day celebration, marking 25 years since the festival began on campus. Georgia Tech Earth Week, which has grown into one of the Southeast's largest Earth Day celebrations, included a bike ride, tree planting, a bird walk (pictured), and more. Photo taken April 20 by Jeff Wiley. 
U.S. Senator Jon Ossoff visited Georgia Tech on April 29. His stop included a press conference (pictured) and brought major stakeholders in Georgia together in a roundtable discussion to explore the potential for a hydrogen hub in the Southeast. Photo taken by Steven Norris.
Credits
Photography: Allison Carter, Joya Chapman, Rob Felt
Writing/Editing: Victor Rogers, Stacy Braukman