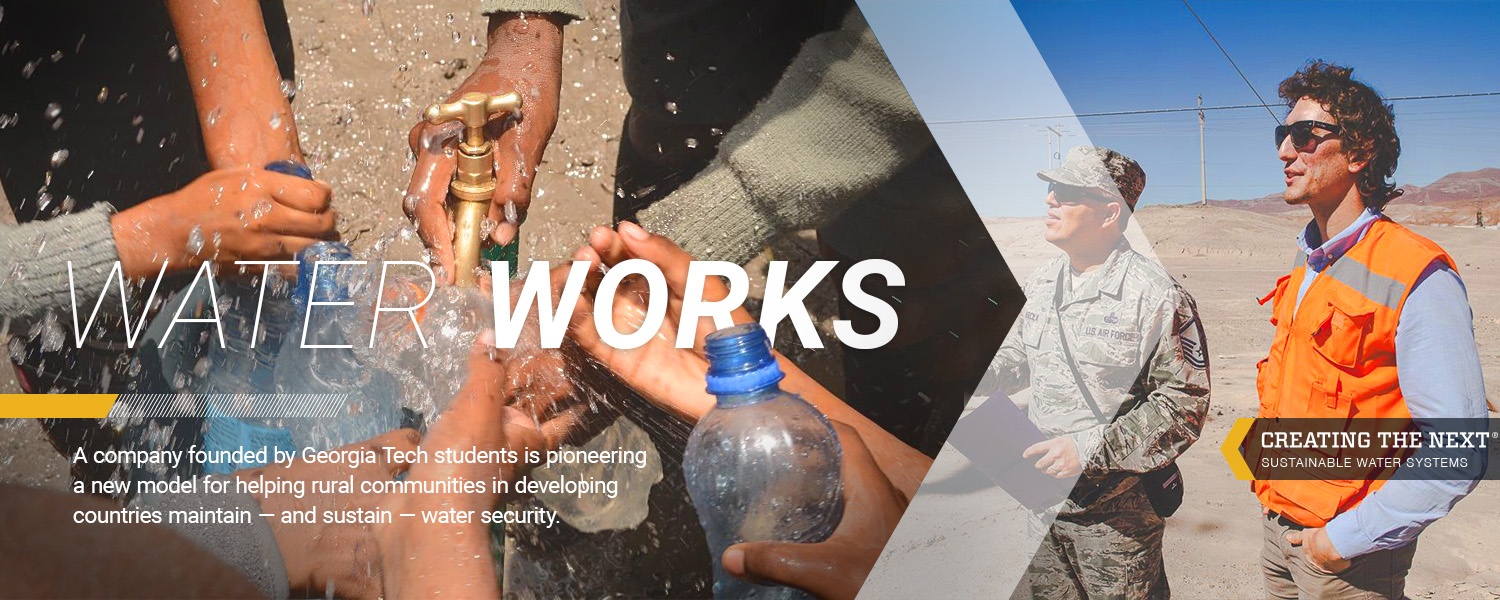 Water Works

By Margaret Tate | Published May 22, 2017
For water to come flowing clear and clean from the tap, a lot has to go right. In the United States and other developed countries, people largely take for granted that all systems — mechanical, electrical, structural, and chemical — are go. And if they aren't, someone can and will quickly determine what went wrong and get it fixed.
But in many areas around the world, it's a different story.
Enter TOHL — which stands for Tubing Operations for Human Logistics — a company originally founded by some Georgia Tech students to transport water to isolated populations during disaster situations using a patented process that employs flexible tubing and a helicopter.
Inspired by the 2010 earthquake in Haiti, the students came up with this more efficient, less costly solution for a Georgia Tech competition called Ideas 2 Serve. Their system placed third in that competition and was also a finalist in Georgia Tech's 2012 InVenture Prize contest.
To get their idea off the ground — literally — the students applied for funding from Startup Chile, which awarded the group $40,000. Financing in hand, TOHL went to Chile, where they filed a patent, incorporated, and began testing.
Video:
Mobilizing the Globe (Short Documentary)
Their process – which many aid organizations had greeted with skepticism – worked as expected. That success attracted even more startup capital as well as attention from several prominent media outlets, including Forbes and The Economist. Since then, TOHL's system has been used for disaster relief numerous times throughout earthquake-prone Chile.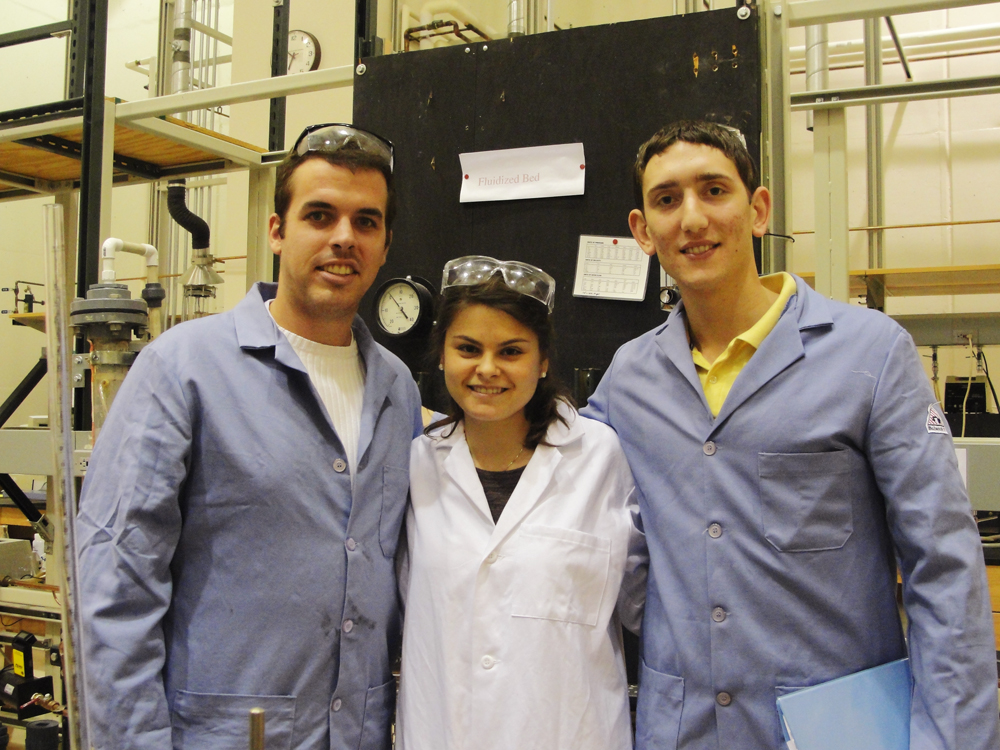 Travis Horsley, Melissa McCoy, Benjamin Cohen, and Apoorv Sinha (not shown) brought public policy, chemistry and biochemistry, and civil and environmental engineering expertise together, respectively, to found and launch TOHL.
Originally, TOHL's founders — Apoorv Sinha (ChBE 2011), Benjamin Cohen (CE 2011), Melissa McCoy (ChBE 2012) and Travis Horsley (PUBP 2010, IAML 2010, MS PUBP 2012) — envisioned emergency water installations as the heart of their business. Before long, having learned to navigate the "water space," they began to diversify — putting their technical, entrepreneurial, and policy skills to work on a range of consulting and engineering projects, including permanent and mobile water infrastructure systems where none had existed before in Nicaragua, Kenya, and Chile. 
This is when TOHL became acutely aware of another type of water emergency for poor, remote communities — more likely to result from a broken pump than an earthquake, but disastrous, nonetheless.
A Holistic Approach
In the past 25 years or so, billions more people around the globe have gained access to clean water — the problem is, they often can't keep it. Systems that deliver water require regular maintenance and inevitable repair, and too many communities don't have the money or expertise to keep them up and running. When something goes wrong, it stays wrong.
So TOHL's humanitarian focus, these days, is on developing a solution to this all-too-common problem — estimated to undermine approximately 40 percent of water projects in developing countries.
There's no helicopter involved in this "pilot project," but rather, what TOHL calls a District Water Office (DWO).
"The thing that makes TOHL different from other organizations that are involved in rural water solutions is their holistic approach."
This model, says CEO Cohen, is a departure from "one-off projects" that, yes, have an impact, but fall short of truly empowering communities.
"There's that saying, 'Give a man a fish, feed him for a day; teach a man to fish, feed him for a lifetime" —  that's the model we're moving toward," he says.
Rebecca Yoo (CE 2017), who interned with TOHL in the summer of 2016, produced a prize-winning video to highlight the company's new approach.
Video:
A Sustainable approach for Rural Water Supply
In it, she introduces another of TOHL's key players: Alonso Silva, a Chilean whose background in engineering, community development, and public policy made him a perfect fit for managing the new DWO.
"The thing that makes TOHL different from other organizations that are involved in rural water solutions is their holistic approach," Silva points out. "You can find good engineering consultants, you can find good community development consultants, but TOHL congregates all these specialists together — it's creating a lot of positive expectations, not just in Chile, but in the region, in Latin America."
Changing the Paradigm
TOHL's pioneering District Water Office serves the Río Hurtado district of the fourth region of Chile, encompassing nine communities that in turn have anywhere from 30 to 100 families each.
Each community has a "water committee," and these leaders — who also have day jobs — work under TOHL's guidance and training to fulfill three main objectives: educate the community on responsible water usage, collect fees to ensure system durability, and monitor and maintain the technical processes.
For example, Silva says, if a new electrical generator is needed, TOHL can help the community get the right item at the best price. "They can apply for funds from the government instead of spending their own money on those very expensive things," he says. "We help them prioritize what to invest in and use their limited resources in the best way."
Before, Silva says, the nine different water systems in Río Hurtado worked in isolation — not communicating, or sharing best practices, or negotiating together to achieve economies of scale. "Now," he says, "there's cooperation and professionalism – it's changing the culture."
And it's ultimately about changing the paradigm, Cohen says. "The real problem in so many places is not that there are no funds available for infrastructure from governments or NGOs, it's that those funds are either not being spent as efficiently as possible or not being unlocked — that's where these district water offices can help. It's about creating a robust support system for these vulnerable communities."
Still, TOHL's intervention is not designed to go on forever. Cohen estimates the Río Hurtado pilot project has about a year to go before it will reach self-sustainability. At that time, he says, TOHL will transfer operation of the DWO to the communities with confidence that, together with the local government, they will be equipped to not only maintain their water infrastructure, but also plan for expansion and improvements in the future.
"It's about creating a robust support system for these vulnerable communities."
"Just as we've accomplished in Río Hurtado, the idea is always that the district government adopts this model, that it is institutionalized," he says. "They can still use our network of DWO's as a resource, but at that point of transfer, we anticipate being pretty much hands off as far as the training goes."
And then what?
"This is a model we'd like to scale in the region as well as in other places, such as Africa, for example," Cohen says. "That's where there's even greater potential for humanitarian impact."
Ultimately, Cohen adds, TOHL envisions a network of DWOs all over the world. "The plan is that the model grows exponentially, that more and more districts see the success of this model and adopt it. We get it started, and they keep it going."
Finding the Formula
When TOHL was founded, Cohen and his partners set the business up as a "for-profit social enterprise" — a corporation designed to, as they say, "do well while doing good." The problem in the water space, TOHL has found, is that it's difficult to make the kind of social and humanitarian impact they want and still operate profitably.
"Once you get into rural areas where people have little or no access to water — there's a reason they're in that situation," Cohen says. "It's not really profitable for companies to extend the water distribution network to those areas — it's costly to install the infrastructure, you don't necessarily get your investment back, it needs to be government subsidized — things like that."
TOHL's projects to date have been funded by a range of revenue streams — nonprofits, for profits, foundations, NGOs, local and national governments, direct contracts, etc. Funding for the Río Hurtado DWO came primarily from the Inter-American Development Bank, whose mission is to provide financing for solutions to development challenges in Latin America.
"We've been very creative with whatever kind of model you can think of, and it's been hard to do that under one roof, under one legal entity," Cohen says. Eventually, he said, TOHL may "spin off" a nonprofit arm specifically for humanitarian projects like the district water offices.
One idea they have been pursuing is based on the Tom's Shoes model, where for every pair purchased, the company gives away a pair in Africa. Just this month, TOHL signed an agreement with Youphoria, a U.S. company that sells yoga-related products. They have pledged to contribute $3 to TOHL's DWO initiative for every product they sell.
"They're still relatively small, but growing, so we're excited to be part of that," Cohen says. "They love the TOHL story and say our cause resonates well with their community and customer base."
Eventually, Cohen hopes, larger companies will get on board and partner with them to more rapidly bring water access to remote areas. "We just feel like we can really scale this up when we have the right product, the right formula, and the right revenue model as well," he emphasizes.
"There are a lot of entities doing great work in the water space, but some of them are just paying for infrastructure, really," Cohen says. "The District Water Office model, it's not an easy sell to donors, but it's actually the most effective way for them to get the most bang for their buck. It's all about sustainability."