Meet Alex McGee, University Archivist
As the university archivist, McGee carefully considers what should be documented and preserved as Georgia Tech history.
Mar 10, 2023
— Atlanta, GA
Alex McGee is the university archivist for the Georgia Tech Library. "I am responsible for thinking about what is considered Georgia Tech history and what should be documented in the archives," she said. Her goal is to document the diverse experiences of the Georgia Tech community, from students to faculty, staff, and alumni.
McGee and her colleagues are often contacted by Tech alumni and relatives of deceased alumni who want to donate Tech memorabilia. The archives cannot accept everything, so they must weigh the research and historical value of what is being offered, noting there is much more to the archives than memorabilia.
"I ask a lot of questions about what they have, how they acquired it, and its condition," she said. "If they have a Georgia Tech yearbook, we probably already have multiple copies of it. But if theirs is in better shape than ours, I may be inclined to take it."
The Library Archives, located in Crosland Tower, maintains a digital archive as well as stacks of research material on a wide variety of subjects and a reading room for viewing it. There is also an assortment of artifacts ranging from movie scripts to an Olympic torch designed by Georgia Tech researchers for the 1996 Games held in Atlanta.
"When we take in something for the archives, it is in perpetuity — as long as Georgia Tech exists. So, we want to make sure that we are good stewards of what comes into our care. That means making decisions about how we arrange, describe, and preserve things so they are accessible and will stand the test of time."
McGee has a bachelor's degree in history and women's studies from the University of Georgia, and a master's in history from Georgia State University. Her first job as an archivist was with the Portman Archives in downtown Atlanta, collecting and documenting material to preserve the architectural legacy of John C. Portman Jr., artist, architect, developer, and Georgia Tech alumnus. After that, she worked at MIT for almost four years as the archivist for the Women@MIT project.
"While at MIT, I also took on the role of interim head of Public Services, focusing on outreach exhibits, instruction, and community engagement with the archives collections," said McGee, who came to Georgia Tech in 2022. "Being from Atlanta, I was really keen to come back. When this job became available, I jumped at the opportunity, and thankfully, they thought I was a good fit."
As university archivist, McGee is eager to serve as a resource for anything related to Georgia Tech's history, assisting a wide range of users with needs regarding Tech history. She enjoys talking to people about their research projects and hearing their excitement when she assists them.
"It's rewarding to see how folks end up using the material in their work, such as research, instruction, and exhibits," she said. "That is the ultimate goal — not just to save things, but to have people use them."
Away From Work
When she isn't working, McGee enjoys attending concerts, reading with her cat, Luxe, working out at Orange Theory, and walking her dog, Sadie.
"I go to a lot of concerts. Before the pandemic, I probably went to 40 or 50 shows a year," she said. "I met my husband at a Grizzly Bear concert at The Tabernacle."
When McGee and her husband, Tyler, lived in Cambridge, Massachusetts, they walked a lot. "So, now we walk our poor dog everywhere," she said. "Some days she just looks at us like, 'Please don't make me go.'"
A couple of little-known facts about McGee are she has a twin brother, and she is a hot tub enthusiast. Because she and her brother don't look alike, most people don't think they are related, much less twins.
She has also always loved hot tubs. She and her husband even received an inflatable hot tub as a wedding present when they got married in Atlanta. When she took the job at MIT, they returned the hot tub they had just received because they didn't have room for it.
"I made a deal with him that we would get a hot tub the next time we lived somewhere that could accommodate it," she said. "He made good on it last year when we moved back to Atlanta."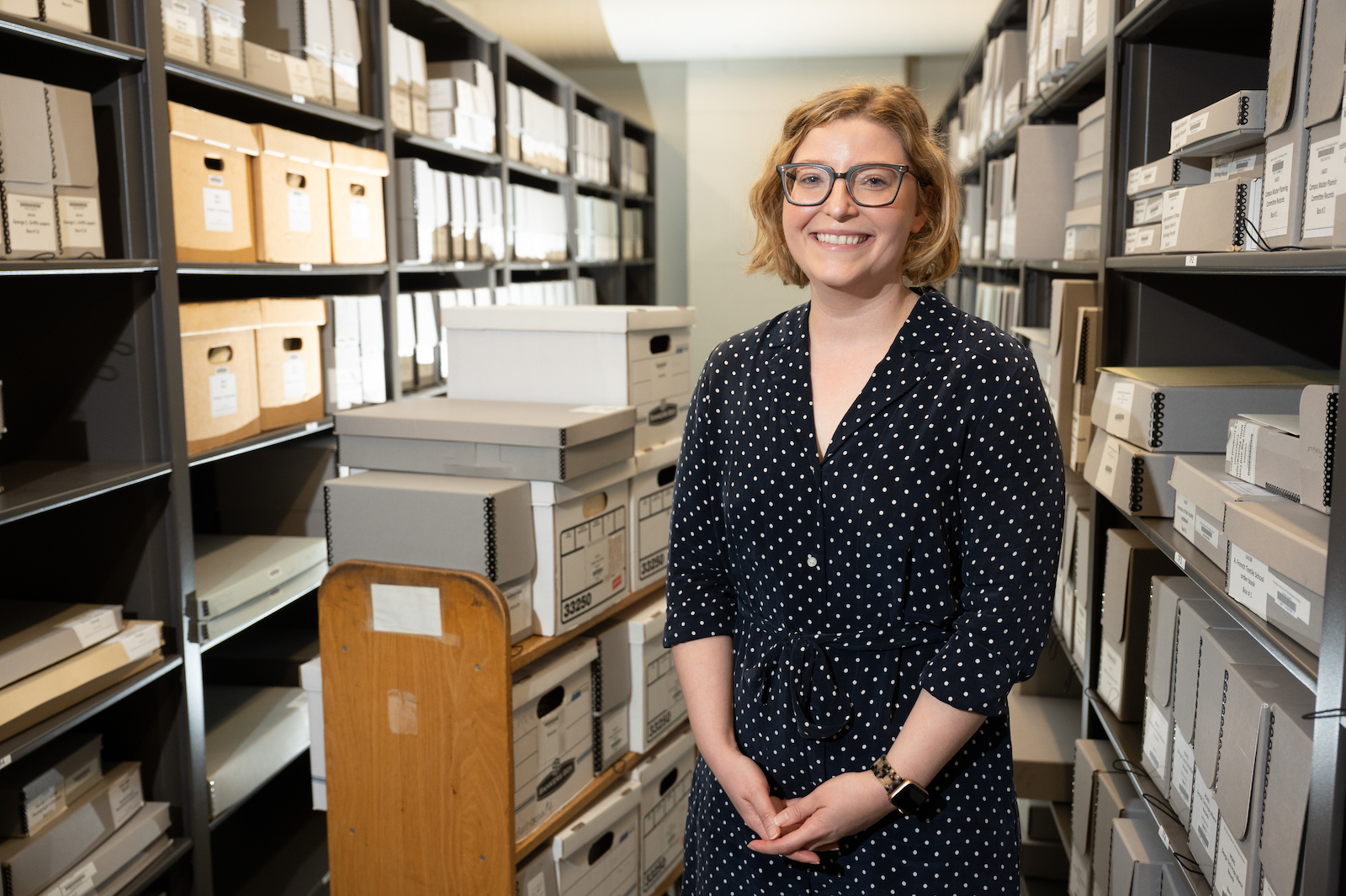 Alex McGee is the university archivist for the Georgia Tech Library. (Photo by Allison Carter)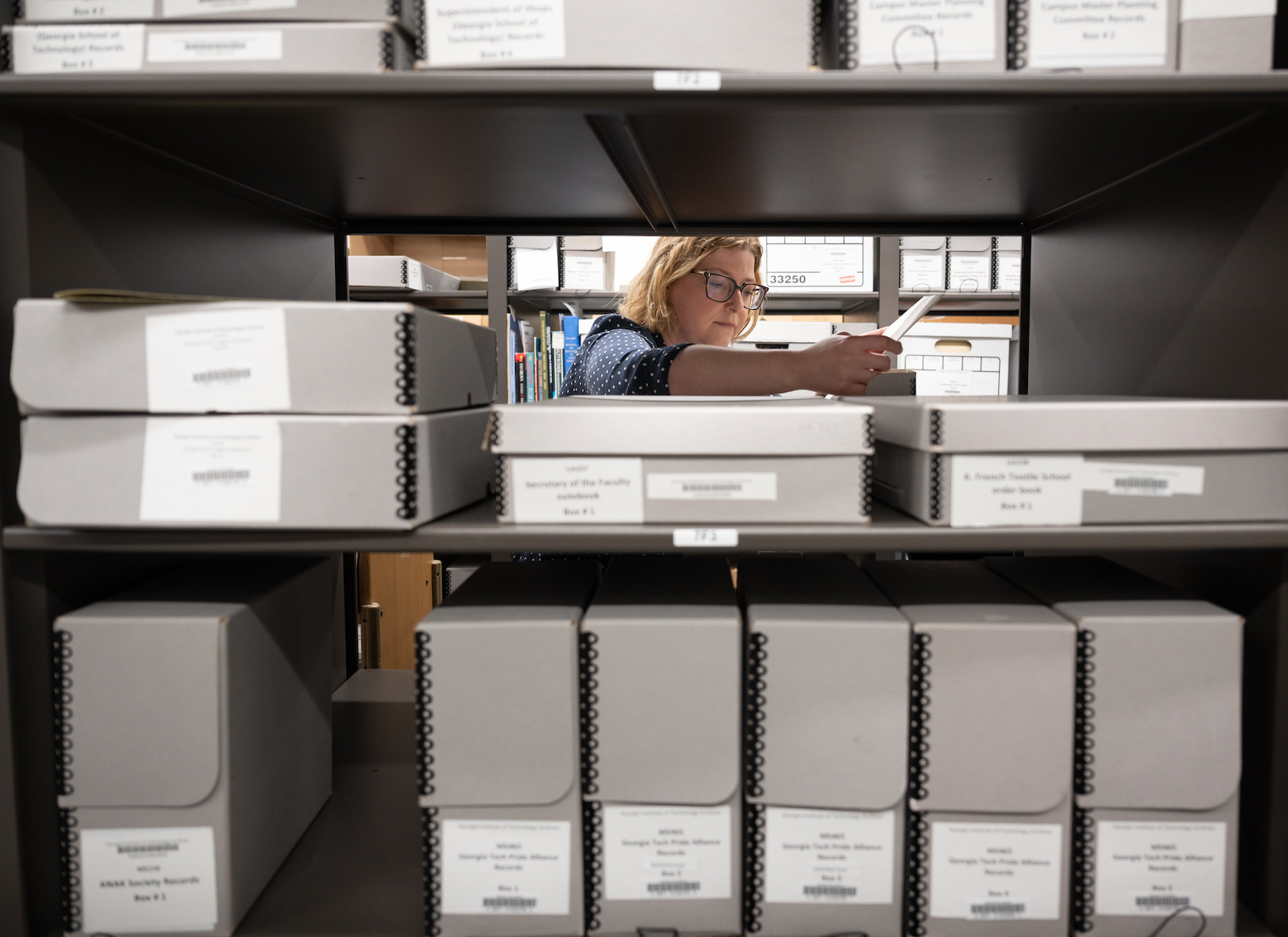 The Library Archives, located in Crosland Tower, maintains a digital archive as well as stacks of research material on a wide variety of subjects and a reading room for viewing it. (Photo by Allison Carter)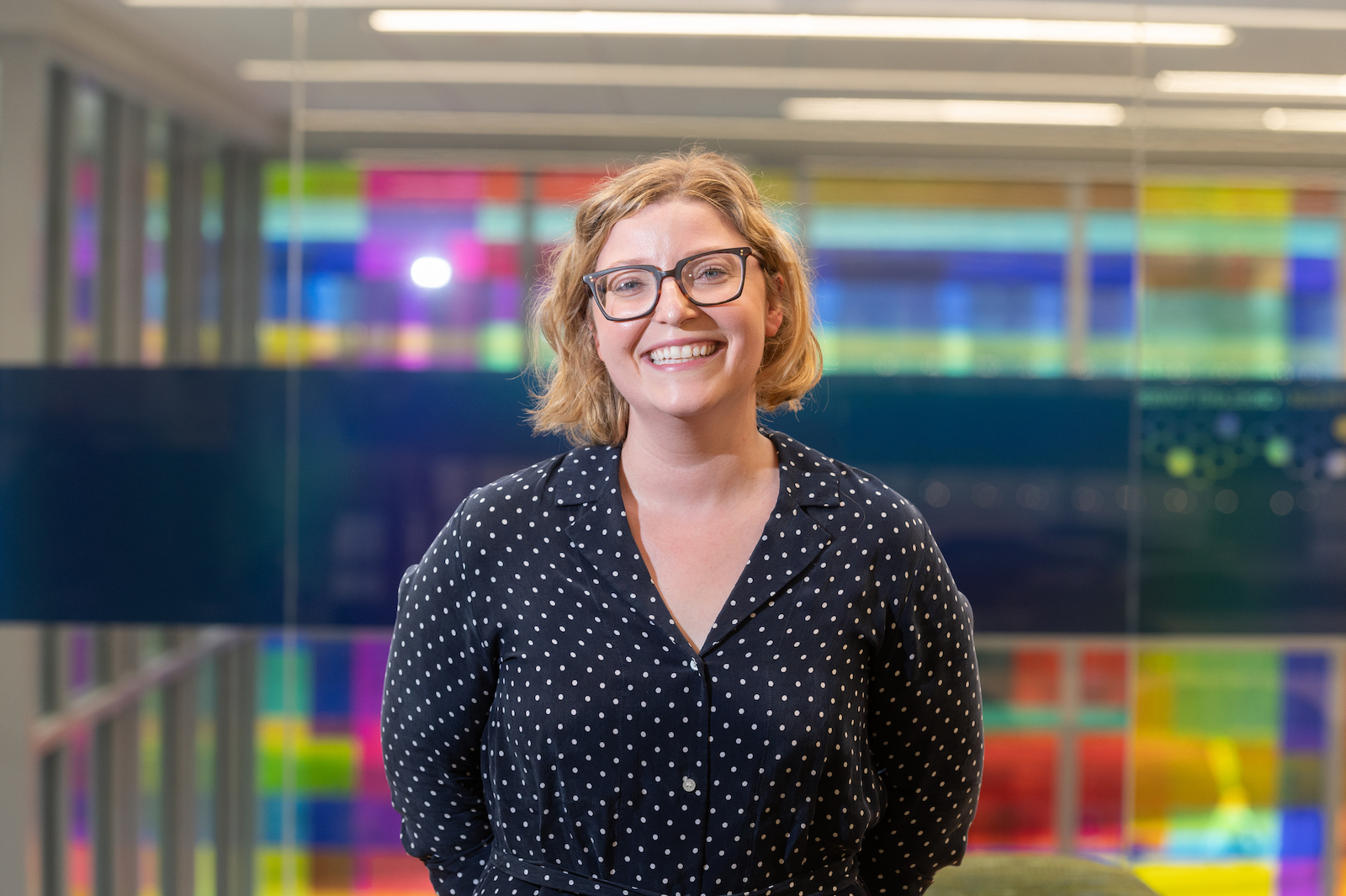 As university archivist, Alex McGee is eager to serve as a resource for anything related to Georgia Tech's history. (Photo by Allison Carter)